BASIC TIPS FOR HAULING IN TOP TECH TALENT
Employers
Hiring Strategies
IT Staffing
Recruiting
Recruiting & Retention
We all have the feeling that the tech job market is more threatening than a monkey with a razor blade. What's more, nearly all HR professionals and hiring managers know by now that the shortage of tech industry candidates when it comes to hiring is going to make us do somersaults to fill those seats for years to come.
According to Universum Global stats of over 1.5 million emploees1, the Hollywood stars in the industry like Google, Microsoft, Apple and others are scooping up the most wanted talent and they leave the smaller less attractive employers eating dust as they sprint away with the talent.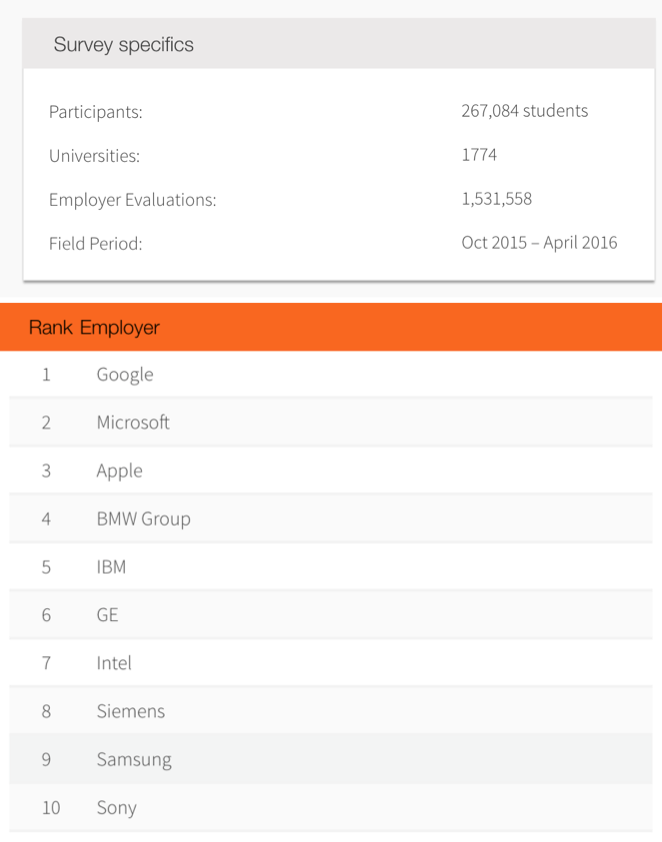 You know that with this never ending cross-country race for top tech talent, you better have the right shoes on because it's going to be dusty and it's going to get muddy. So, your HR team and your hiring managers better be ready to do everything they can to show the candidates who walk through your doors that your company is the real trophy to take home!
Most probably you are not going to have a chance to leverage the resources of companies like Google and the magnificent 10 to find tech industry super top talent, but you still have plenty of things you can do to put yourself in a winning position against your other competitors and convince those candidates that they can make an impact in something great with you.
To help haul in the top tech talent that will enhance your brand in today's always demanding age of technology and indirectly support new talent attraction, you have to make sure to incorporate the following basic tips in your recruitment strategy if you want to keep up with the race tempo.
CLEARLY ADVERTISE THE REAL THINGS THAT TECHIES WANT FROM A JOB
Employees nowadays want a lot more than just a job. What they really want is the opportunity to develop their career, a prospect where they can learn and prosper and where they can understand and see the bigger picture of their role. Let's also not forget that they prefer a working environment that has a set path for their career trajectory at least for the immediate future.
You'll want to look for background insight from specialist sites like Woo where HR departments can find valuable information about some of the top prospects in the tech world. You can use this information to help craft your job advertisement and through this type of platform, you can learn about what potential candidates are really looking for in terms of compensation, career prospects and other industry specific motivators.
These kinds of tech sector orientated platforms will provide way more relevant information than your average Google search and will give you far better key insights on how to properly advertise your corporate offer.
Alternatively, if this seems something that your HR team can't possibly add to their long list of tasks, then please get in touch with us and we can manage your position advertising, generate talent pool and take care of the interview process for you through our Customise Delivery Options services.
MAXIMISE TO YOUR ADVANTAGE INTERNSHIP PROGRAMS
It's undeniable that internship programs are a necessity for university students without previous specific experience. Another reality is that a university degree by itself does not always have the sufficient value that it once did for employers. All of this means that now is the time to maximise your internship programme and if your organisation does not have an official one for the tech industry, it must look to start one immediately. It will not only provide exposure for your organisation but it's also a useful way to help nest and settle your in-house talent.
The advantages that an internship programme will bring to your organisation are:
It's cheaper than hiring a full-time employee.
You have the opportunity to observe first-hand the strengths and weaknesses of the potential hire without bringing them on board full-time.
You can get a feeling of what a future employee could bring to the job and work culture without any risk.
Once the duration of the internship is over, you have the opportunity to make a decision as to whether the intern will be an added value addition to your organisation.
The intern themselves will get a valuable real-life experience during the duration of the internship and will promote your organisation within the tech industry.
Tech Internship programmes can do a lot for talent pipeline at nearly no cost to the business, other than a bit of time. You'll want to carry out some research before beginning a programme and consider what such a programme could do for the culture of your brand. Alternatively, if this sounds like a lengthy process, get in touch with us and we can design, implement and manage the entire process for you through our services.
MOVE FAST WITH HIRING OFFERS

To source and find the right candidate in the tech industry is no easy challenge. Let's put it this way – as there's no need to rub more salt into the wound – we know that in the majority of the cases, it's going to take a while before you have that seat covered.
Nevertheless, it's paramount that you exercise a certain level of urgency when making an offer and dispatching it. Although it's not always wise to hire the first candidate that you meet (unless he/she is a clear "go" and you'd be stupid to risk losing the candidate), we have to be realistic and sensible and not spend unnecessary time going through profiles and profiles being overly picky. Because, at the end of the day, we all know that the top tier candidates are both 1) heavily sought after, and or 2) will not wait for us to make a decision before accepting a good offer from someplace else.
Decisiveness and speed on making that job offer and getting it sent to the candidate will be your best recruitment tools in the race to get that talent hired. While on the other side, overthinking and sluggishness to pull that trigger on the job offer will cause heavy damage to your existing team and equally on your HR team.
The trickiest of all industries is the Tech Industry and this is because a large number of positions do require a higher level of candidate prospecting. Based on Glassdoor's latest study, well above 30 days is the average time to hire a candidate in the industry.
To have a short recruitment cycle is going to do wonders in the long run for both, money saving and freeing up resources. Be considerate to you and others, including the candidates and speed up the selection and hiring process as much as possible and you will be upfront in the race we've been talking about. If you need help in speeding up your recruitment cycle, then please get in touch with us.
Keep both feet on the ground, because getting new talent on board is always going to be a major challenge. You know yourself that each candidate is different in many ways, so be prepared to keep improving aspects of your entire recruitment strategy. The tech industry is looking bright because new graduates are making the right career choices to put themselves into the market. But remember, if you fail to prepare, then you should be prepared to fail.
This post was written by Tomas Cides Jimenez, Managing Director at People Place.
Tomas joined the Group in 2007 as a Senior Recruitment Consultant, and has been successfully working his way up to his current position. Becoming responsible for entire business operations within Central Europe and Western Europe. Working closely with managers at all levels in the clients' portfolio to ensure the business delivery and client satisfaction is always at highest standards. To follow Toma's blogging articles you can subscribe by clicking the box on your right or register with us.  Or why not connecting with Tomas on Facebook, Twitter or LinkedIn.